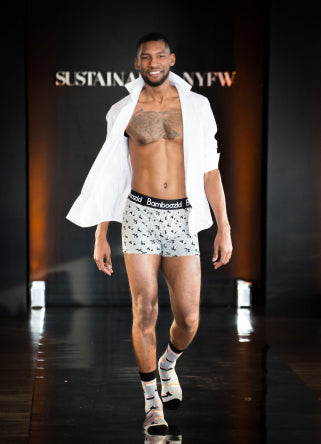 Bamboozld Showcased at Sustainable New York Fashion Week 2020
Bamboozld was excited by the invitation to attend Sustainable Fashion week in New York. It was an amazing opportunity to showcase Bamboozld as a brand whilst highlighting our sustainability practices on the world stage.
Bamboozld LIVEIN STYLE Magazine Feature
Bamboozld was delighted to be featured in Livein Style article focusing on Sustainable New York Fashion Week 2020. The exhibition highlighted 8 trailblazing fashion designers whose missions are to conserve the earth's resources by using sustainable, eco-friendly materials and/or use sustainable processes in creating their fashion wear and accessories. Bamboozld made their runway debut at Sustainable NYFW, an Australian brand producing a collection of underwear and socks out of a "miracle" source: bamboo.
Fresh Socks for Frontline Healthcare Workers
As a token of appreciation to our frontline healthcare workers during the peak of the pandemic, Bamboozld donated a super comfy pair of Covid Run socks to these heroes for every pair sold. Over 2400 pairs of socks were donated to staff in some of Victoria's hardest hit hospitals to thank them for their incredibly hard work. Run off their feet, we want to support our healthcare workers with comfy, bamboo socks. They're moisture-wicking and breathable, perfect for doctors and nurses who are on their feet all day. Thank you to all those who helped make a contribution #sharethesocklove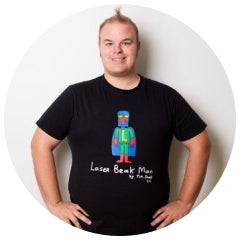 Tim Sharp Collaboration
We are thrilled and privileged to share our collaboration with International Brisbane based Artist Tim Sharp. In partnership, Laser Beak Man by Tim Sharp x Bamboozld has been bringing wearable art to life since 2020.  Tim has thrived and found his talent to draw and communicate how he sees the world through his super hero character Laser Beak Man. He has won fans from all around the world with his unique sense of humour and happy colourful art.
Reaching out to Tim to collaborate made a lot of sense. We share the same values, sense of humour and love to make people feel good.  We saw Tim's ability as an artist and thought, wow, this guy's incredible, his designs would look amazing on our product range, and they do!  
Bamboozld Pledges Support To Flood Impacted Communities, Providing Urgent Clothing Essentials
Bamboozld joined forces with social initiative, Thread Together, to
provide urgent deliveries of Bamboozld everyday clothing essentials to families impacted by the recent New South Wales and Queensland flood crisis. You can help by purchasing from Bamboozld's Everyday Essentials collection, including socks, underwear and sleepwear. For every item purchased, Bamboozld will donate the same item to Thread Together's flood relief efforts. This partnership with Thread Together will ensure that families in need have access to quality basics. Socks and underwear are often among the most needed clothing items, yet the least donated and we are glad that together, we are able to assist.