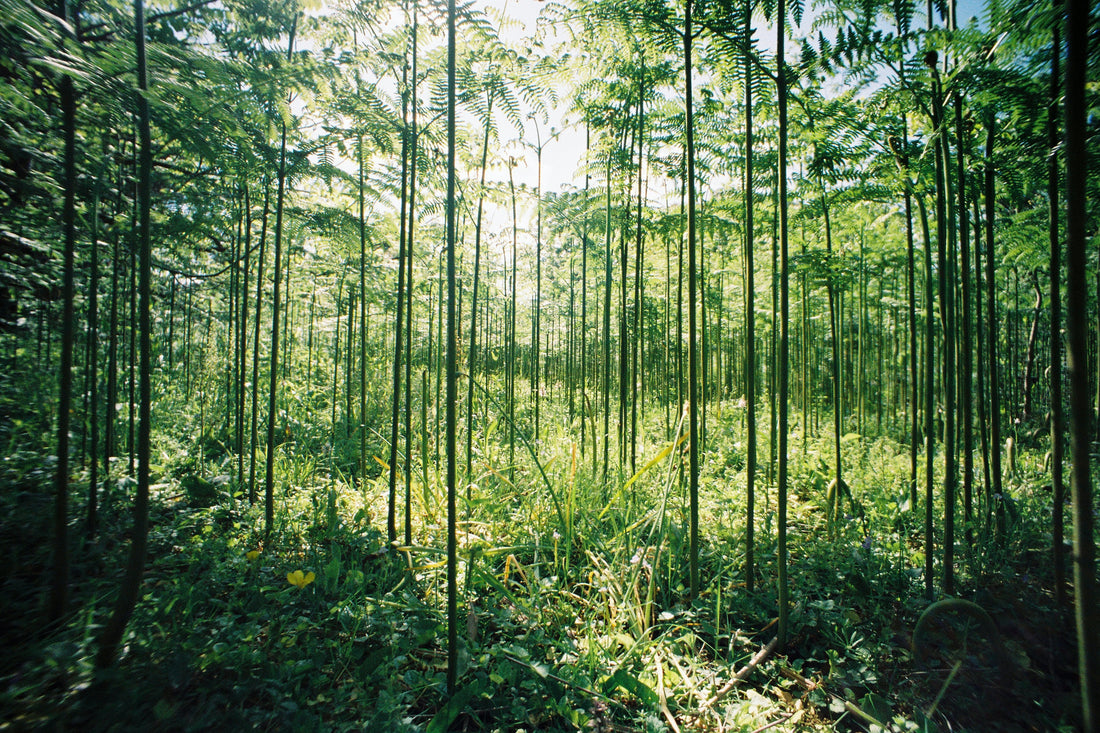 Bamboo vs. Cotton Underwear - Which Is Better?
With the many different underwear styles and fabric types, it can be difficult to know which ones to choose. Traditionally our grandmothers told us to wear cotton underwear, but is bamboo better than cotton? 
Bamboo underwear has increased in popularity thanks to improvements in textile processing, making them comfier, eco-friendly and more affordable. Whether you prefer classic cuts or pretty patterns and designs, our men's and women's collections offer plenty of options.
What's the Difference Between Bamboo and Cotton?
There are a few important differences between cotton and bamboo that will help you choose the best underwear for you. Cotton takes 5 to 6 months to grow and accounts for 16% of all pesticides used in agriculture worldwide. Bamboo is a fast-growing plant that takes 5 to 6 years to grow 30 metres tall and needs less water to grow than cotton. Bamboo is grown organically without any pesticides.
Bamboo is a breathable fabric and 4 times more absorbent, making it perfect as a fabric for underwear. Its natural anti-bacterial properties and toxic-free process ensure a sustainable and eco-friendly fabric.
What To Know About Bamboo Underwear
It shouldn't surprise you that bamboo clothing is appearing everywhere. The demand for bamboo underwear is rising as its benefits become better known. You may think that bamboo is rough and uncomfortable. Instead, its luxurious softness and natural fibres allow your body to breathe and enjoy ultra-comfort. Bamboo is an ethical alternative to cotton and other synthetic fabrics that feels great and looks good too.
Bamboozld has a fabulous range of women's briefs and camisoles that are comfy and stylish for all body types. Our men's range of briefs and boxer shorts are also supportive and comfortable and have bright and colourful print designs. All of them offer comfort, breathability and all the advantages of bamboo underwear. 
Advantages of Bamboo Underwear
Bamboo underwear is naturally more breathable than cotton due to its moisture-wicking properties. This keeps your body dry as the micro-gaps wick moisture away, helping to reduce odour and bacteria down below. 
Bamboo is naturally hypoallergenic, making it the perfect option for sensitive skin. Free from pesticides and harmful chemicals, bamboo underwear is good for the environment as well as for those with allergies. 
Disadvantages of Bamboo Underwear
Bamboo can shrink in the wash. We recommend that you wash your Bamboozld bamboo underwear on a delicate wash and follow the care instructions on the label.
Bamboo is quick growing and sustainable, making it great for the environment. However, a lot of clothes are made from bamboo rayon which requires a chemically intensive process to produce bamboo fabric. Bamboozld uses ethically produced bamboo that is not bamboo rayon and has no chemical processes when producing it.
Understanding More About Cotton Underwear
Cotton is a popular and traditional fabric for underwear that has been around for thousands of years and is one of the most common fabrics in the world. It is the underwear that your grandmother probably told you to wear when you were young. The choice often comes down to bamboo or cotton underwear.
Advantages of Cotton Underwear
Cotton is a long-lasting fabric that is easy to wash. As a hard-wearing fabric, it doesn't lose its shape or colour. It can be woven at a variety of thicknesses which alters its strength, thickness and feel, making it a very versatile fabric.
100% cotton is breathable and naturally absorbent. It also helps to regulate your body temperature, keeping your skin fresh and cool. It is a good all-weather fabric as its fibre structure keeps you cool in the summer and warm in winter.
Disadvantages of Cotton Underwear
Cotton, as a crop, requires a lot of water to grow. As it is often grown in drought-prone areas, it places a lot of pressure on the local communities where cotton is grown. 
Non-organic cotton requires a lot of fertilisers and pesticides to grow. It is one of the most chemically dependent crops today, and traces of the pesticides can remain in the cotton clothes after they are produced. Unlike bamboo, non-organic cotton isn't sustainable and is classed as an E-grade fabric.
Cotton is produced in many countries around the world but relies on unsustainable production methods in developing countries. This has created environmental impacts such as soil erosion and degradation, pollution from pesticides and water contamination. In India, children are often used as labour on cotton farms, depriving them of an education. In China, cotton has also been linked to forced labour camps.
5 Reasons to Choose Bamboo Underwear Instead of Cotton
For years cotton underwear was king, and then technology improved and created new fabrics. If you are wondering if bamboo underwear is better than cotton, here are 5 reasons to leap on the bamboo bandwagon.
While cotton requires pesticides and fertiliser to grow, bamboo has natural antibacterial and anti-fungal properties making it naturally resistant to insects. Our bamboo is grown naturally without any need for pesticides or toxic chemicals.
Bamboo fabric is a luxuriously soft fabric making it perfect for underwear. Our bamboo underwear is made from 70% bamboo, ensuring it's super comfortable to wear and a great fit.
Bamboo is more breathable than cotton, and because of microscopic holes in the fibre of bamboo, it has excellent ventilation, which keeps you feeling fresh for longer. This means you won't have to wash your bamboo clothes as often, which will help them last longer.
Bamboo fabric has thermoregulatory properties that help keep you cool when it is hot and warm when it is cold. This is because cross-sectional fibres keep the heat in on cold days, and the breathability and moisture-wicking ability of bamboo to keep you cool.
Bamboo underwear contains natural antibacterial properties. They are hygienic, and you are less likely to get infections. An added benefit is that they can also resist and eliminate odours, unlike cotton. 
Browse Bamboozld for Bamboo Underwear
Bamboo underwear is extremely versatile. Our range of Bamboozld undies are super comfy, and they look amazing too. While you are here, take a look at our fabulous men's and women's collections, including socks, sleepwear and underwear.